My name is Kennie Gould and I'm the founder and senior Krav Maga Instructor of South West Krav Maga – Swindon, Oxford & Reading. There's something you'll learn about Krav Maga and its practitioners we're different. We tend to be driven people, seeking challenge through training, always looking to better ourselves and those around us. This last bit is important. It's the best bit. As an instructor I get a lot of reward out of seeing people improve their self defence skills and fitness levels also just as important their confidence to defend themselves and loved ones by using verbal communication and their physical intervention skills. As a student when I face my own challenges at the hands of instructors, I get a lot out of being part of a team and working through adversity hand in hand with my peers. Krav Maga training is tough but not too tough to make you want to give up plus it's great fun. The gradings are tougher, but passable, they are designed to push you through your own barriers to your total limit. But that forges better people, a new you is born. When you step into a Krav Maga class and watch people training, you'll hear shouts of encouragement, people urging each other on, to push harder, to achieve more, to find new limits. I've trained many years in Japanese martial arts and I've never seen the same atmosphere in another training venue. It's a tribal thing.
Krav Maga is unique, as I hope you'll discover it for yourself sooner than later. You will thank yourself
If you'd like to talk about training, or are considering coming along, I'd love to hear from you.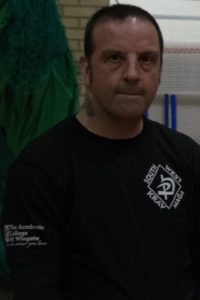 South West Krav Maga – Swindon Kennie Gould